Slate Roof Installation in Laval
Slate roofing is a traditional roofing that had great success in France, before becoming popular in Quebec. Belonging to the category of shale, slate is a coating characterized by its dark gray color with a shade of blue reflections. It brings elegance and added value to a residential building. Overview.
Do you have a question?
Request a quote today
What is a slate?
A slate is a roof covering that comes in two varieties, namely:
Natural slate: it is a metamorphic rock from quarries. It has undergone a transformation under the action of temperature and pressure, causing crystals to appear;

Synthetic slate: it is the result of a mixture of organic fibers, cement, minerals and water. It has similar insulating and sturdy qualities as its natural counterpart, but is less durable.
Two slates can be distinguished from each other by their thickness, size, color and the shape of their plates. They can be rectangular, diamond or square and they are available in several sizes, ranging from 10 x 10 cm to 120 x 60 cm (Length x width).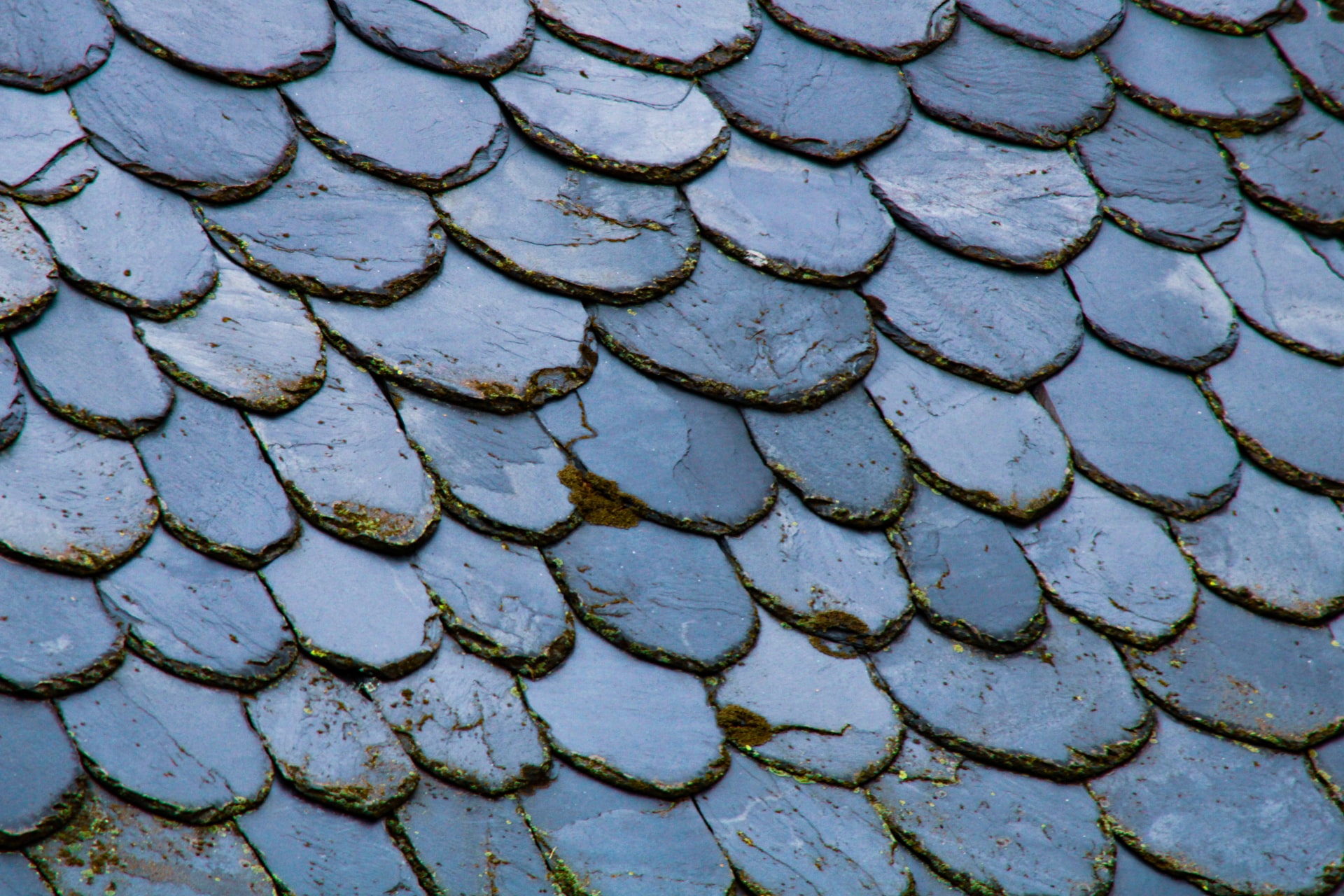 What work can be done with a slate roof?
The installation
To begin with, it is important to know that the installation of this type of covering is impossible on a flat or rounded roof.
The installation of this roof follows the hook method, if the installation is carried out on battens. This technique allows the structure to remain stable, despite strong winds.
The craftsman will choose a frame strong enough to support the weight of the structure.
The interview
Maintenance is not essential during the first 20 or 30 years of the structure. At the end of this period, the job of the craftsman is to clean the blanket with a brush and hot water.
At Toiture Couvreur Laval, we carefully choose our maintenance products for a durable and well-cleaned roof. We make sure that it is impossible for fungi and moss to proliferate at this level.
Repair
Repair or replacement is necessary when simple maintenance is insufficient. The work consists of changing strips of flashing or completing missing / damaged slates.
Entrust us with this mission given its delicacy. It is imperative to prevent water infiltration by protecting yourself. A slate roof is not designed to support a man's weight, so stepping on it should be avoided.
Why is slate roofing popular in Laval?
This structure has the advantage of being strong enough to adapt to Laval's climate. Its insulation and waterproof performance can last up to 100 years. In addition, it is resistant to fire and high heat.
Note, however, that it is the high price of slate roofs that makes some owners of commercial, institutional or industrial buildings doubtful.
Is it necessary to contact experts to carry out the work?
Entrusting work projects to professional craftsmen allows you to benefit from a complete service, from inspection to finishing without forgetting maintenance work. Our workers are qualified for these missions and they have the necessary tools for a realization in the standards.
In addition to the repair work, we also take into account the condition of the frame. Our comprehensive services allow us to intervene for you for the repair of various types of roofing, including shingle roofs.
Free quote and installation price
The price of installing / repairing a slate roof depends on the origin of the stone, the surface worked and the slope of the roof. Submit these details to us from the "Free Submission" form in the dedicated section of our website.
We study your request and we present our estimate to you, in less than 24 hours. Do not hesitate to contact us for other work, including roof maintenance or snow removal.
Do you have a question?
Request a quote today
Roofing service on the north shore
Testimonials
from our clients
Just after the big storm that took place a month ago, we went online and filled the specific form that we have found on this company's website. This was on a Saturday afternoon. The next day the manager called us and visited our house to evaluate the situation with the roof. The roof suffered grave damages, a condition that couldn't go unfixed for many days since everyone feared the next heavy rain. The manager provided us with a reasonable quote and the next day they started working on our roof with professionalism and extra care.
Veronica Sullivan
2021-09-17
The team members working for this roofing company are all professionals and experts that have years of experience in the field of roofing. You can also see that they are very passionate about what they are doing and love it to the core. Do not hesitate to call them if you run into any trouble with your roof in the future. They intervene quickly and immediately and the work provided will leave everyone happy. This is a roofing company that is completely recommended.
The reason we called your company was because we desired a makeover of our house and our roof. We also wanted to improve the insulation in our house. Your company suggested installing a glass wool mat and a HPV underlay system, a system that was installed in addition to the structure that was already there. Two years have passed since then and the insulation works greatly keeping our house warmer and cooler. If you want to make a long-term investment or you simply face issues with your roof, do not hesitate to contact them.
Paulette Rhoades
2021-09-15
We couldn't be happier with the work performed in our roof last June. The interior and exterior of the roof along with the finishing touches are perfect and very qualitative. Also, the insulation installed gives to our house a sense of warmth and comfort that we did not have before. Overall, we are very grateful for everything this roofing company did on our roof and for its polite, experienced and professional crew. We will recommend it to anyone we know.
Audrey Mignone
2021-09-14
A roof in any house is, besides a functional part of the house, also part of this design and charm. This is why, when planning to renovate our house, we decided to use the service of this specific company for the renovation of the roof. Everything done by this company is highly appreciated and the end-result is of the utmost aesthetic, qualitative and practical aspect. Also, the placement of special insulation to the roof is hugely appreciated since we believe that it will help tremendously in the next winter with keeping the house warmer and reducing heating costs.
I received a quote from this specific company regarding a replacement on a roof. This concerned a property in the suburbs that I wanted to rent. The company completed a precise investigation and estimate within the next 2 business days. Every part of the team worked very professionally and helpfully throughout the entire process. The team manager offered me many solutions and advice and I chose the one that best fitted my budget and my needs. The result from then on is exquisite and of the utmost quality.
We recently bought a new house and we couldn't be more happy and anxious to start enjoying it. But we had an issue: the roofing was outdated and needed to be renovated in its entirety. This specific company came highly recommended and this was the reason behind choosing it to assist us with replacing and fixing our roofing. Not only did they assist us but they offered to place a specific insulation system allowing us to spend 50% less in our yearly electricity and heating bills. Definitely a must!
Robert Hutchings
2021-09-11
I am a man of the same profession (a bricklayer) and trust me when I say that I have never seen such a professional and hard-working roofing company. The reason I hired them was to apply a waterproofing insulation in my terrace. The end-result is very well and after severe and heavy rains, not a single issue occurred. The tightness is excellent and everything works and fits perfectly. I will definitely count on this company again in the future if I ever need any work done on my roof.
Great professionals. Ratio quality-price that no one else can beat. We completely recommend them and we are so happy that our terrace roof got fixed. In addition to that, they provided waterproofing and flooring services in our attic. They employed a 10 people team in our house, everyone a serious and professional individual. The result is of the utmost quality and very clean. Work started when agreed upon and finished the same. The finishing touches are great and we are very happy. If we ever need any other repairs, we will definitely use them again without hesitation.
Jonathan Sessions
2021-09-05
This specific roofing company offered to waterproof our roof and terrace and we are extremely happy with the end-result. The insulation work was delivered within the time and cost we agreed and expected from the beginning. The owner of this company is a very professional and careful individual that knows exactly what he is doing. His constant concern is that everything is perfect and spotless. Not a single reproach!